E3 2018 Day One: Do It For the Punch Card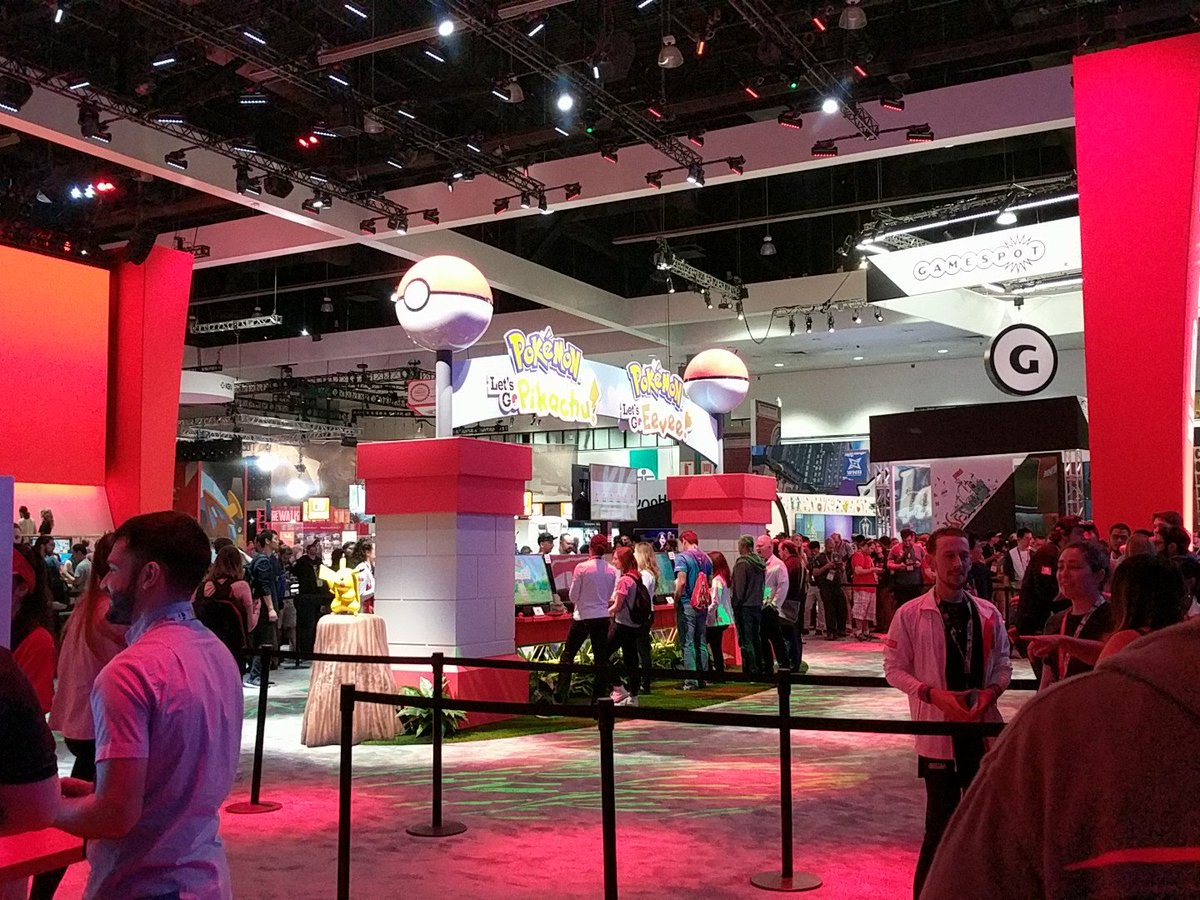 Nintendo's booth had a neat little gimmick this year, likely due to the massive number of gamer pass-holding attendees that would flood the show floor. Instead of having an open area like they've done in previous years, Nintendo's E3 2018 offerings are walled-off by rope and three main areas: one for the new Pokemon titles (which we didn't get a chance to play today), one for Mario Tennis Aces, and then one for all of the third party titles. Upon entering the first area and completing a match of tennis, attendees are given a punch card — play five different game demos to fill out the card with stamps and you're rewarded with a vague prize.
The pain we had to endure to complete our punch cards…
#E32018 pic.twitter.com/QzNvFZx63P

— Switch Era (@switch_era) June 12, 2018
The first game we ran to after Aces was Fortnite. Naturally, the demo only lasted a couple minutes — just like my Fortnite matches on PS4. Unlike that PS4 version, however, Fortnite on Nintendo Switch is pretty rough around the edges. It seems clear that it's based on the mobile version, because characters and objects in the environment are a little jaggy and sometimes blurry. The frame rate is solid, though, and I didn't seemed bothered by the lack of visual polish when I was in a heated 1v1 pick axe duel. I chose to play it docked instead of in handheld mode — I'll probably try it on handheld mode tomorrow.
Surprisingly, Dragon Ball Fighter Z runs pretty much flawlessly docked (a handheld demo wasn't available). It's a gorgeous game that I'm god-awful at. It'll be interesting to see if the online modes have any latency issues, as it was plagued with lag when it initially released on other platforms.
The next game we played was one of my favorites in the show floor: Paladins. It's very similar to Overwatch, except players are able to customize their heroes as they see fit with cards. Paladins is essentially a deck-building competitive FPS, and it runs at a flawless 60 frames-per-second in handheld mode. Despite having poured hours upon hours into Overwatch, I still found Paladins to be a ton of fun. It's one that I'll return to on the show floor tomorrow — partly because I opted against bringing my Switch on this trip. The game is out now, and Jack will be doing a giveaway for a Paladins code on our Instagram page, so be on the look out for that!
Killer Queen Black provided us our next stamp, and it takes the top spot for game of the show this far. Two teams square off against one another, seeking one of three different types of victories: military, economic, or…. Snail. Each player has a different role, like collecting enough little little berries or escorting the snail to win. One player on each team also controls the queen, who can attack enemies and capture bases. I played as the queen in each match, and wreaked havoc on the opposing team — if your queen dies three times, the opposing team claims a military victory. Tomorrow we'll be publishing an interview that Omar conducted with a local arcade-bar owner, and it really goes into detail about why Killer Queen Black has become such a hit on arcades, and soon, on Nintendo Switch.
#E32018 pic.twitter.com/JD8BAE1yCJ

— Switch Era (@switch_era) June 12, 2018

We didn't feel like waiting in long Starlink and Overcooked 2 lines for the final stamp, and decided to head over to the shortest line, thinking it would provide the least amount of resistancr. That game was  FIFA 19, or in other words, a teleportal to purgatory. The exhibitor recommended we play with the two-button control scheme, which took a tremendous amount of control away from us — the game was practically playing itself. And it just wouldn't end. It wasn't sped up for the sake of a demo; we were playing long soccer halves. We had to stick it through in order to get our precious completion stamp. This resulted in us purposefully own-goaling, thinking that there might be some sort of mercy system —  for the losing team and our souls.
To add insult to injury, our prize for completing the punch cards were a couple Mario Tennis Aces pins. Nothing could have washed away the pain caused by FIFA 19.
Hell hath no fury like a couple-a gamer bois trying to fill out a Nintendo punch card for cheap souvenirs. https://t.co/2ED6SJjKtS

— [Nondescript Human Male] (@TomTesoro) June 13, 2018
… Except for a free copy of Super Smash Bros Ultimate, probably.